ABOUT

BIOGRAPHY – GENE BREGMAN, PRINCIPAL
Gene Bregman has conducted public opinion, political and marketing research for more than thirty years. He began his career in his native New York City. S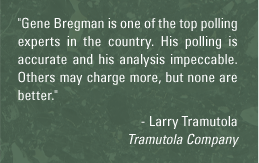 hortly after moving to San Francisco he became a project director with Public Response Associates, where he later rose to become company vice-president. He left to form Gene Bregman & Associates in January, 1980.
While his main emphasis has always been, and continues to be, political polling and related public opinion research, Gene has designed and analyzed many different types of research in every state in the nation. Some of these have included:
Conducting public opinion research to help cities, counties and various governmental agencies (schools, hospitals, libraries, parks, etc.) assess how well they are doing with the public, understand what is important to their constituents, and ultimately, assist them in setting the priorities that meet the needs and desires of the people they serve. GBA has conducted research for more than 120 California school districts, more than 90% of which have led to successful bond and/or parcel tax elections
Politically, being involved in a multitude of gubernatorial, senatorial, congressional and local candidate campaigns, in addition to well over 100 local ballot measure campaigns, most of which have required a two-thirds vote for passage (and the vast majority of which have been successful)
Being the principal researcher for three Knowledge, Attitudes, Beliefs and Behavior studies among various ethnic minority populations for the San Francisco Health Department, AIDS Office, all of which had their results presented at International AIDS conferences
Designing the first exit polls ever conducted in California that were used for predictive as well as analytical purposes
Conducting an array of research techniques that fall under the heading of "litigation consulting," including jury simulations, mock trials, juror surveys, change of venue surveys, etc.
Conducting business-to-business surveys that help companies understand their customers and their competition
Surveying a company's employees on issues related to their jobs and the workplace
Testing consumer products such as cough drops, chewing gum, mouthwash, soap, candy, soft drinks and others
Gene is a long-time member of the American Association for Public Opinion Research. He is a graduate of Case Western Reserve University, Cleveland, Ohio.